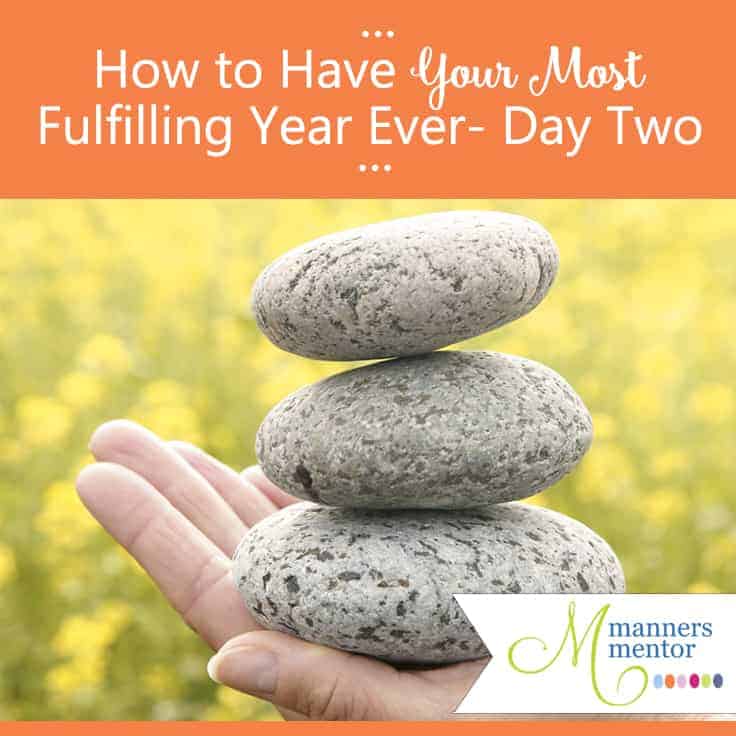 By: Maralee McKee, Manners Mentor
In Day One of our Most Fulfilling Year Challenge, we discovered how choosing a positive emotion to cultivate over the next 12 months will lead to a more satisfying and joy-filled year than making a list of resolutions. The reason is that our emotions continually move us to action, but resolve is easily chipped away whenever we encounter a setback. In today's challenge, we'll consider and answer the Cornerstone Year Question. This is a negative thing we each have in our life that if we're not careful will sneak up and try everything it can to pull the positive emotion we're cultivating out by its tender roots. No worries! Since we are going to deal with it now, it will have no power to deter us! The two-page handout will be a great help in completing today's challenge, so go ahead and download it here, and join me on Day Two of our Most Fulfilling Year Challenge!
Your Negative Cornerstone Life Issue and How to Handle It
Think carefully about the best and worst of last year. Don't think about particular events, like "I flew to London for vacation." or "I was fired." That type of good or bad isn't what will help us shape this into our most fulfilling year ever.
We want to go under the surface to the essence of our personal strengths and weaknesses — the things that bring out the best and the worst in us.
Our strengths are already good, so in most cases, they won't trip us up. Of course, we all have room for improvement, but today let's consider those strengths already checked off our to-do list!
It's the negative things about ourselves that we're going to consider today — the negatives that we recognize as such and wish we didn't have within us. For instance, when looking back over last year, maybe we realize that we feared, worried, dreaded, complained, whined, or felt insecure, angry, unforgiving, incapable, unloved, etc. These are examples of negative Cornerstone Life Issues. Everyone has something, and that's what we want to change for the better this year.
On the back of your worksheet, list the three things that you wish you could rid yourself of the most. Then considering those three, and those three only, which one causes you to feel the most limited, sad, or inferior? Circle that one. What you've just circled is your Negative Cornerstone Life Issue, and this year you're going to enter a game of Whack-a-Mole with it every time it tries to rear its head. Because that issue will try to battle the positive emotion that's trying to move you forward this year, it must be stopped.
Using the Negative Cornerstone Life Issue we just circled, and our handout, we're going to answer our Cornerstone Life Question, which is: "How do I want this year to be different than last year?"
For example:
How do I want this year to be different than last year? I want this to be the year that I don't lash out at my loved ones, because I know it's wrong, and the guilt I feel weighs heavy on me.
How great would it be if you didn't experience your worst feelings, actions, or insecurities this year?!
Sure, it would be wonderful to lose 15 pounds, learn a new language, or get organized — typical resolutions — but even if you accomplished all of them and could be rightfully proud, you wouldn't change the essence of your most pressing heart issue(s).
When you change your Cornerstone Life Issue™ and cultivate the positive emotion you've chosen to add to your year, you don't just have your most fulfilling year ever — you change your life!
A Real-World Example
To take us from theory to real-world application, I'm sharing with you the emotion I've chosen to move me forward and sum up how I want this year to have felt when the calendar turns over on December 31. You'll also find the answer to my Cornerstone Year™ Question. It's always a little scary to put myself out there, but what good is a mentor who won't be authentic with you?! Most of all, I'm sharing because today's challenge is by far the most complicated, yet it's not hard. My real-world example will help you understand how the individual pieces of the process work and how they all come together to form a sturdy bridge to a fulfilling year!
A Look at My Most Fulfilling Year Challenge Questions and Answers
I struggle with general anxiety and panic attacks due to childhood events and the death of my first husband from a five-year battle with cancer when I was 27 years old. The attacks had gone away but stampeded back with a vengeance when my youngest son was diagnosed with multiple severe learning challenges and some challenging medical issues. He's making strides that were never dreamed possible for him, so I'm doing better. Yet I still struggle with driving. I have a very limited driving range due to my constant fear that I'll have a panic attack ("fear of fear"). It's been hard on me and my family. Kent, my husband, has done all of the driving for several years. So this is the cornerstone area where I most want this year to be different from last year.
My Emotion to Move Me Forward is: Boldness (This is also my One Word for the year.)
My Negative Cornerstone Issue is: Fear of fear
My Cornerstone Year™ Question and Answer: How do I want this year to be different than last year? This year I want to overcome my fear of fear, drive on major roads again, and be bold in facing each day.
I had great difficulty in driving for too many years, and when you're a suburban mom, being able to drive is pretty much a necessity. When I can drive without panic attacks, it will allow me to feel like the adult, woman, wife and mom that I am. And this will be my best year ever even if I gain some weight, the house is disorganized too often, or I continue to drink too many Coke Zeroes every week! (All three of those have been on past lists of New Year's resolutions that I gave up on before February 1.)
If I had a million dollars and could spend it to not have panic attacks when I drive, I gladly would!
What would you pay a million dollars to change? That's the negative you want to eliminate in order to let the positive emotion you've chosen move you forward to your most fulfilling year ever! (Here's a link to today's two-page handout in case you haven't downloaded it yet.)
What's Next?
Join me tomorrow for Day Three of our Challenge. You'll discover the Pillars of Purpose. These will help hold you up and on course throughout the year, no matter what this year might bring your way!
Blessings galore,