By: Maralee McKee, Manners Mentor
I'll come out and say what a lot of us feel. Writing thank you notes, especially after receiving a number of gifts at the holidays, or for our birthday, shower, or wedding, is time-consuming, draining, and sometimes dreaded. In fact, even needing to write one card can feel daunting.
What we need is a formula for writing thank you notes — a template to follow that makes the task a whole lot easier — because a lot of our dislike comes from simply not knowing what to write. Here, you'll find my five-step formula for writing thank you notes that the recipients will treasure.
The formula will guide you as you write so that your notes are heartfelt and authentic, and you'll find it easier than ever before to come up with the perfect words to express your gratitude.
Why Are Heartfelt Thank You Notes Difficult to Write?
Let's say that we listed a fancy coffee machine on our wedding registry or put it at the top of our Christmas list. Now that we've received it, even though we love the gift and are grateful for it, how do we express thanks for a machine, even if it's a machine that brews really great coffee?
It's hard enough if the gift we received is one that we love. What if it's something that's going straight to our favorite charity because it wasn't anything we'd ever want or use? Even though there's only room for about 150 words on the average-size thank you note, it's almost impossible to come up with enough words to fill the little card.
And because of it all, our thank you notes sound anything but heartfelt. It's not intentional. It's that when we don't know what to write, we give up on "heartfelt" and settle for just getting them written, addressed, and in the mail, so we can check "write thank you notes" off our to-do list.
(If you wonder how best to send your thanks, this post, Thank You Notes: When to Send a Handwritten One, When It's OK to Email or Text & When One's Not Required, makes deciding easy.)
They're More Than a Social Nicety — They Affect Us
Expressing thanks is more than a social obligation. It's one of the keys to a more joyful life. The people who define themselves as happy aren't so because of their circumstances or finances.
The joyful understand that the key that unlocks this treasure trove of living is gratitude.
They meditate on their blessings and will tell you about them if you ask how they're doing despite what difficulties they're facing.
For those who don't live in joy, its arrival has been delayed by worries, unmet expectations, and an inability to see their blessings through the fog of their wants. Each day brings new disappointments that keep joy just out of reach.
Humans aren't naturally content. We tend to reach out for more. We say to ourselves, "Joy will come in the morning." However, until we count the blessings already given to us, joy will always be a day away.
Yet when we are actually in the moment of expressing gratitude, whether it's through a text, phone call, email, or via the gold standard — a written thank you note — we actively stop reaching out for more and focus on what we already have. In those moments, we experience the apex of contentment: joy.
With that in mind, here's my formula for expressing gratitude through writing gracious thank you notes. There's also a true account about a thank you note I wrote. It's an eerie story. But never has a thank you note been received at a more perfect moment. It speaks powerfully to how we never know how the ripples of our gratitude will impact someone else.
(If you've already thanked the giver in person, this post, 7 Savvy Manners for Writing Thank You Notes After Saying Thanks, will provide you with additional gracious and sincere tips you'll enjoy using.)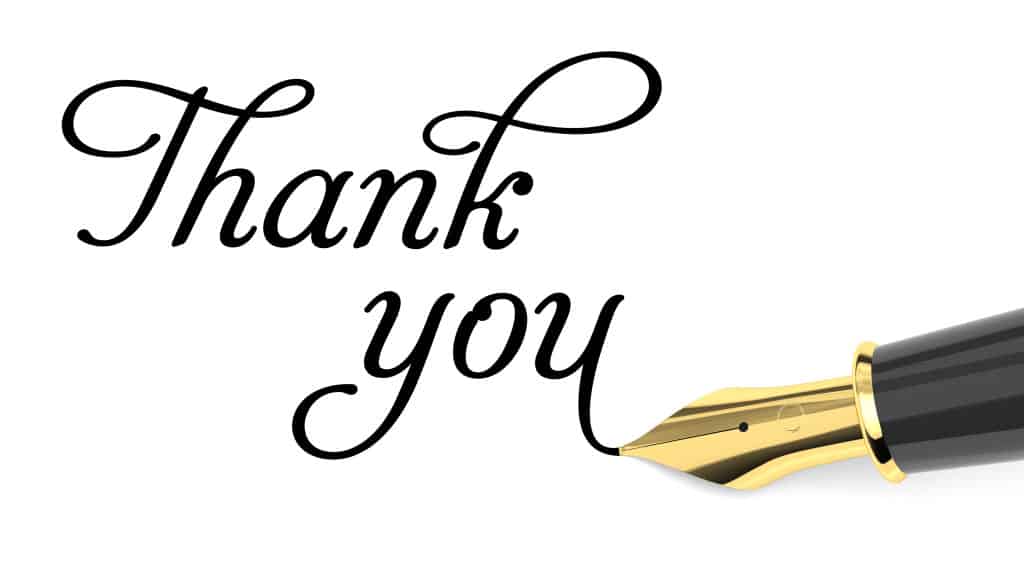 The Five-Step Formula for Writing Treasured Thank You Notes
1. Don't start your note with "I" or "We." In the first sentence or so, focus entirely on the other person.
So often, we start a note off with, "I love my new_______" or "We had the best time at your Christmas party." These seem like nice enough ways to start a thank you note. However, in both cases, the focus is on you and how you benefited.
In the first sentence or two, focus on the other person(s) by complimenting them. "You have a talent for choosing the most perfect gifts!" or "Your Christmas party should have had its own HGTV special!" (Notice the difference!)
(If the item, dinner, party, or such is in any way related to Christmas, you'll find more tips for expressing your gratitude in The 3 Persons You Really Should Write After-Christmas Notes To.)
2. In the next sentence or two, name the gift, party, or kindness, and use the words thank you.
"Thank you for the Nespresso Coffee Maker and the three packs of pods, too!" or "Thank you for including Carlos and me at your Christmas party!"
3. In the following sentence or two, in detail write about the gift, invitation, or kindness and how you benefited from their thoughtfulness.
For a gift, beyond naming the item, you could write about the color, the feel of it, how and when you'll use it, where you've placed it in your home, or whatever is most appropriate to mention about the gift.
If you're thanking friends for a party, mention details about the event that you'll hold as memories: a favorite food, the table decorations, someone at the party you enjoyed meeting, or anything else that comes to mind as special.
If you're thanking them for a kindness (they picked your children up from school every day for two weeks, they helped you move, they loaned you their grill for a backyard party you hosted), mention how you benefited from their kindness and how you're touched by it.
4. End your note by mentioning the next time you hope to be with the other person(s). This shows that you enjoy being with them and look forward to continuing the relationship.
Too often, especially when it comes to showers, weddings, graduations, and large holiday parties, we invite everyone we know, but then we don't make an effort to continue the relationship once the event is over and the gifts have been received.
It's not that we mean to, it's because they're not among our closest friends or relatives and we don't immediately schedule time to keep up the relationship. And what doesn't get scheduled never occurs.
The quality of our life is measured by the quality of our relationships. Mentioning how you plan on seeing them again helps build up your relationship, providing you follow through.
"I look forward to being with you at Mari's 30th birthday in March!" or "Travis and I would love to see you again soon. Check your calendar for the last two weeks of the month and see whether we can meet for a walk in the park followed by coffee on a Saturday or Sunday afternoon. I'll text you next Friday to see what day is best for you, or whether you have something else in mind you'd like to do."
Before you forget — and if you're anything like me, you'll forget — set an alert on your phone for next Friday to remind you to call, or write it on your calendar. Whatever we are, we don't want to be one of those people who say, "Let's do lunch!" and then never "do lunch."
5. Sign off with thoughtfulness and, when appropriate, humor. Too often, cards are simply signed Best, Sincerely or something equally as generic. Put some thought and heart into it, and close on a high note!
If you're sending your note to a relative, you could write something like, From your niece, the one who knows you're the best aunt ever. If it's to a friend — let's say it's the one who gave you the coffee maker — your salutation could be, With love from the person to visit when you want the best coffee ever.
If you're thanking people for their party or dinner, touch on something you haven't already mentioned about the event in your note: Daydreaming about your chocolate creme brûlée right now.


(If you're wondering where to find great cards to write your notes on, check out the Cards and Stationery Department in the Manners Mentor Boutique. I personally own or have bought each item as a gift and can highly recommend them.)

The Circle of Gratitude
There you have them, five simple steps that take four to eight sentences to express (feel free to write more!), and yet, when followed, value the other person(s), express gratitude, show how they have positively impacted you, deepen relationships, and end by, we hope, putting smiles on the recipients' faces and in their hearts! And all the while they keep you in the midst of joy by expressing appreciation for what you've already been given.
It's the circle effect of gratitude. As you bless the person, the blessing flows back to you!
A Life Saved By Gratitude
Please Note: Elements of this story have been changed to protect the privacy of the people involved.
Don't think a thank you note can mean much? I learned in a very intense way that it can.
About five years ago, I was invited to a party by someone I had met two times in passing. I was happily surprised to receive the most beautiful invitation I have ever seen. She invited me to join her for an Easter-themed brunch at her home. I RSVP'd that day to let her know that I would be honored to be there and that I looked forward to getting to know her more over brunch.
(Wondering what to say when you RSVP, how long after receiving your invitation you should wait to respond, or what to do if people don't reply to your invitation? Here in one of the most popular posts on the blog are the modern manners that apply to this centuries-old art.)
I've been to my fair share of parties. Never had I experienced anything like hers! It was opulent yet casual at the same time. The music, the handmade menus and place cards, the china, crystal, fresh flowers, table decor, and the beautiful necklace she gave each guest as a party favor was something I had only seen in magazines. I bet a Kardashian has never thrown a more lovely party, even though they throw million-dollar bashes, and hers probably cost a couple of hundred. Throughout the evening, I complimented her; and, as I was leaving, I thanked and hugged her.
The next morning, I reached for my thank you notes when my inner voice told me to write her in great detail about how her party and the effort and love she poured into it touched me. So, I put back the thank you notes and took out my stationery. When I was finished, I had written a three-page thank you letter.
I popped it in the mailbox and was surprised the next day when she called me sobbing because of the kind things I mentioned in the letter. (I was surprised both by her intense feelings and by the fact that the letter arrived so quickly.)
Through tears she told me that she hosted lots of parties, but that no one ever seemed to notice anything she did. They wouldn't RSVP. They'd RSVP yes but then not show. They'd arrive and not eat her food because they were on a diet. They never complimented her on the flowers or the table settings. She said that I was the first person who ever mentioned the party favor in a thank you note, let alone told her that they would treasure what she chose.
"Maralee, I was about to do the dumbest thing in my life and then your letter arrived. If it had arrived 15 minutes later, it would have been too late for me to ever change what I was going to do. I'll never be able to thank you enough. Never. You changed my life today by letting me know that people notice me and what I do."
I couldn't help but think that she had planned on calling everyone who had been at the brunch to give them a piece of her mind for not seeming to care for the hours of effort she had put into making a special afternoon. I was glad my note stopped her because I knew that would be something that she would have regretted later.
About a month from that day, my new friend, her husband, and children unexpectedly moved to California from Florida. Her husband was offered a job that was too good for them not to accept. I never got to further our friendship.
A year went by and I received a phone call from a mutual friend of Lori, the lady who had hosted the brunch. Our mutual friend was starting a prayer chain for her. Lori was in a coma in ICU. She had tried to commit suicide that morning after her husband left to drop their children off at school on his way to work.
After dropping off their daughters, he realized he left his cell phone at home. He drove the quick five minutes back to the house and found her in their bathtub dying from a self-inflicted gunshot wound.
If her husband had not left his cell phone at home that day, she would have died.
I got off the phone and began to pray. My mind flooded with the conversation we had that morning when she called me crying, "…I was about to do the dumbest thing in my life…If your letter had arrived 15 minutes later, it would have been too late for me to ever change what I was going to do." I had thought she was going to call and tell her guests they were unappreciative so-and-so's.
But…
What if?
What if the morning she called me she had planned on doing what she did that morning in California? In hindsight, I believe that is what she was referring to when she called me sobbing.
Was a letter of gratitude, of noticing, of letting her know in the most tangible way possible, something she could hold in her hands and take in each word again and again, the thing that pumped hope into her that morning the way life support was then pumping air into her lungs?
Had a thank you letter been her life support that day?
I will never know for sure. But, I'm pretty sure it was.
Gratitude, never underestimate its power.
Who can you touch today with a note of thanks?
What's Next?
If you're not part of the Manners Mentor family, join me today by typing your first name and best email address in the box below this post.
You'll receive my weekly newsletter in your inbox to keep and read at your leisure. Plus, you'll be in the know with news, mentoring, etiquette tips, a personal note, and merchandise discounts that I only share with those who subscribe to the newsletter! (They're not mentioned on Facebook or any other social media.)
Be a part of the Manners Mentor Movement and family! I will never share your email address. That would be rude!
Until next time, write a thank you note — or two, and keep doing what only you can do: bless the world by being you at your authentic best!
Hugs and blessings,