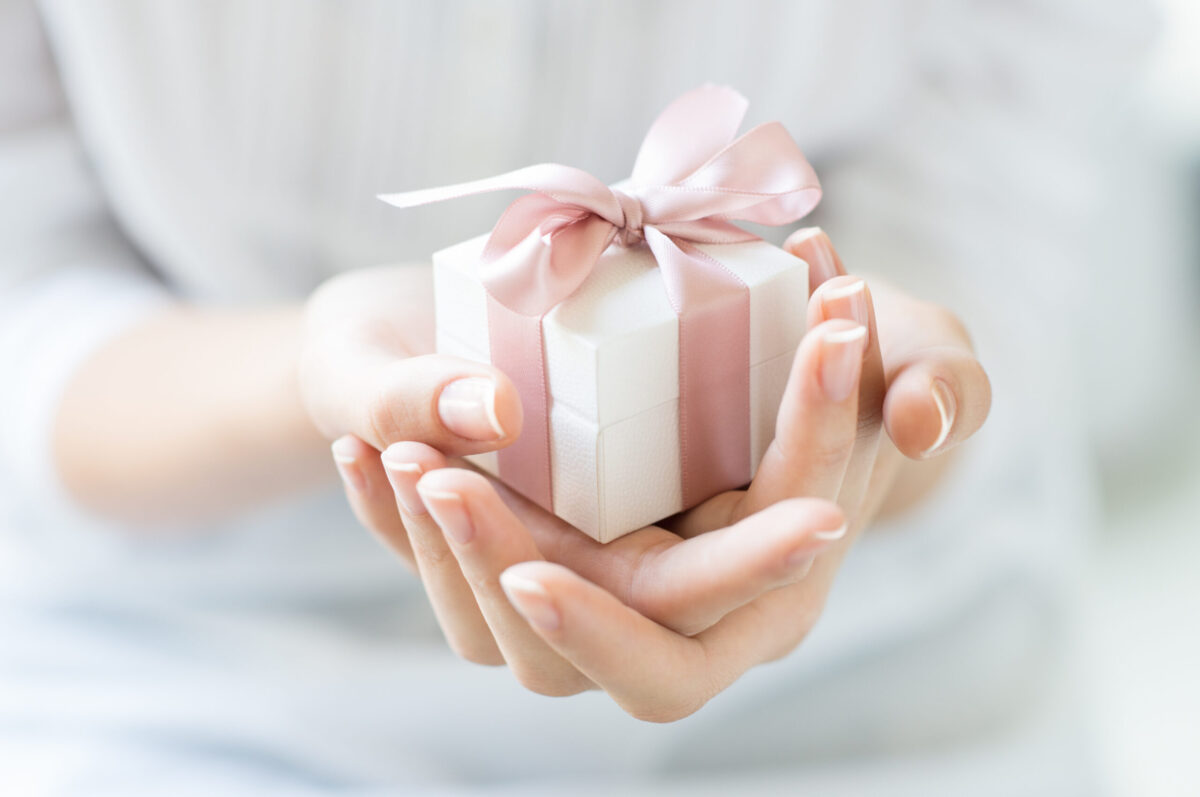 By: Maralee McKee, Manners Mentor
You've just been handed a gift and are about to open it.
All eyes are on you.
If what's in the box isn't what you would have picked out for yourself, you hope your face will hide your feelings.
You don't want to hurt the gift giver. And besides, you know it's the thought that counts and not the gift.
You also realize you're not Meryl Streep or Robert Downey, Jr.
You don't know how convincingly you can act like you adore a gift that you'll never cherish.
Not to worry. From now on, you've got this!
Follow the steps I share in this post, and you'll be fine whether the gift is very "you" or has you wondering, "Really? You thought I would like this? You're my friend, but do you know me at all?" These seven manners of opening gifts will show you how to receive presents graciously while being authentic. It won't even matter whether the gift turns out to be something you're going to cherish or try to forget. If you're hosting a bash and would rather people didn't bring any gifts, that's fine most of the time, but not always. For the full scoop, check out Does "No Gifts Please," Really Mean I Shouldn't Bring a Present?
The 7 Manners of Opening Gifts
1. Know the little-known meaning of "thank you."
By definition, the phrase "Thank you" doesn't mean you like the gift (or whatever it is that you're saying thank you for). It simply acknowledges that you notice someone has extended you a kindness.
When it comes to a gift, regardless of whether you like your present, saying thank you, even an enthusiastic thank you, isn't a lie (or even a white lie).
The fact that a person gave you something is a kindness that rightfully deserves your eager acknowledgment.
2. Open the card first.
Opening the card first shows you have more interest in the sentiment behind the present than what's in the bag or box you're about to open.
If you're opening gifts at a party or shower, say aloud whom the gift is from: "This gift is from Taylor."
Then read the card to yourself. The sentiments from the person are private.
After reading the card, make eye contact with Taylor, smile, and say thank you.
Grace note: If she wrote something that touched your heart, you can and should let her know. "Thank you, Taylor. What you wrote means the world to me." You can tell her then, or wait and tell her in private sometime during the party.
3. Have the giver present in the room.
Gift givers are kind enough to search for, buy, wrap, and bring you gifts. During the holidays, at a party, or one-on-one, it's gracious to open presents in front of them so they are there for the "unveiling" and so you can thank them in the moment.
4. Say thank you in this special way.
You want to say thank you, but not just in any old way. You want to make sure your thank you includes these four elements (in any order) for maximum gratitude impact:
~ Mention the gift by name.
~ Say something nice about the gift and the giver.
~ Use the gift giver's name.
~ Say the words "thank you."
Put it all together and you have something like this: "Tia, you know me so well! You remembered that I collect Savannah Glass from the 1950s. Thank you! This salt and pepper shaker set is going to look great on my table. You picked a special gift, and I'll think of you every time I use it."
Graciously handle gifts you don't like.
Grace note: What if you don't like the gift? Then what do you say? Honestly, it's hard. But since we know the Gold Standard of the four elements listed above, we can do it. Or at the least, we can get really close.
Our thank you will be more heartfelt than many people who like the present they received but don't know the etiquette of expressing it.
One of the times I dealt with this was when someone gave Kent and me an 8″ x 10″ framed photo of herself. It wasn't from a family member or someone we consider family, and since our house (which this person had visited several times) is small, and I only have one 8″ x 10″ photo of my children on display, why she thought we'd have space for her photo is a mystery.
I don't remember exactly what I said when I opened it, but it was something like this (I'm not using her real name): "A framed photo, Dee-Dee. Thank you. You gave us a very personal gift. Your blue blouse is pretty (it was), and it's nice how the frame will sit on a table or can be mounted on the wall!"
I had to look hard for the good. But that's the beauty of looking for good. If we search, we'll always find it.
I was able to acknowledge her gift and say thank you without any lies, not even a white one.
And yes, even though you thanked the person verbally for the gift, it's still gracious to send a hand-written note as a permanent reminder of your gratitude. The how-tos of writing a heart-felt note are in 7 Savvy Manners for Writing Thank You Notes After Saying Thanks.
5. Deal graciously with duplicate gifts.
It sometimes happens that we receive duplicate gifts. When you open the second gift, it can be awkward for you and both of the gift-givers, especially the second person.
Having two of the same item is often nice. Two bottles of your favorite scent, that's a bonus! However, two toasters, unless you're making toast for ten every day — you probably don't need the second one.
When having a duplicate is a plus, mention it as you say thank you. It will set both gift-givers at ease.
When having a duplicate isn't something you can use, thank the second person the same as you did the first. You can add on something like, "You and Gail are both great gift-givers! I'm blessed with friends who are like-minded in their good taste!"
You can deal with what to do with the duplicate gift later. For now, open the next gift.
In any social setting, you want to push reset on the awkward button as quickly as possible.
Note: In my book, chapter eleven is Giving and Receiving Gifts Gleefully. In it, I share all the adult skills for both giving and receiving gifts. You'll learn how to impart these easily to your children and teens so that, by the time they're grown, the skills will be automatic for them. You can get your copy of Manners That Matter for Moms here.
6. Keep the gift in its packaging during the party.
You want to unwrap the gift, but leave the item in the manufacturer's box until after the party. You want the gift-opening part of a party not to drag on and on. People don't need to see your iPad out of the box or all the attachments that came with your mixer.
However, if a gift is a unique item (jewelry, something handmade, or anything that has delicate details), you certainly can pass it around for everyone to see close up. You also can set it on a nearby table, and invite anyone who wants to take a look to do so at their leisure.
7. Write down who gave you what.
I know you probably already know this, but I have to say it. Sometimes, if it's a small gathering and you receive five or six gifts, you're "sure" you'll remember exactly who gave you what when you later write your thank you notes. However, two days later, you'll be surprised how doubts, if not outright forgetfulness, will sneak in on you.
You don't want to send a thank you note to someone for a gift they didn't give you. It's embarrassing! Sadly, I know firsthand. But, that's a story for another day. 🙂
Follow the seven manners of opening gifts I've shared here, and people won't mind at all when an opportunity to give you another gift rolls around! When presents are graciously opened, people know you appreciate their gifts, and, more importantly, they're certain you appreciate them. And that's a feeling everyone cherishes!
What's Next?
Talk soon! Until then, live your best life by being kinder than necessary, and you at your best!
XOXO and blessings,