Here are 19 easy ways to look better instantly today and every day!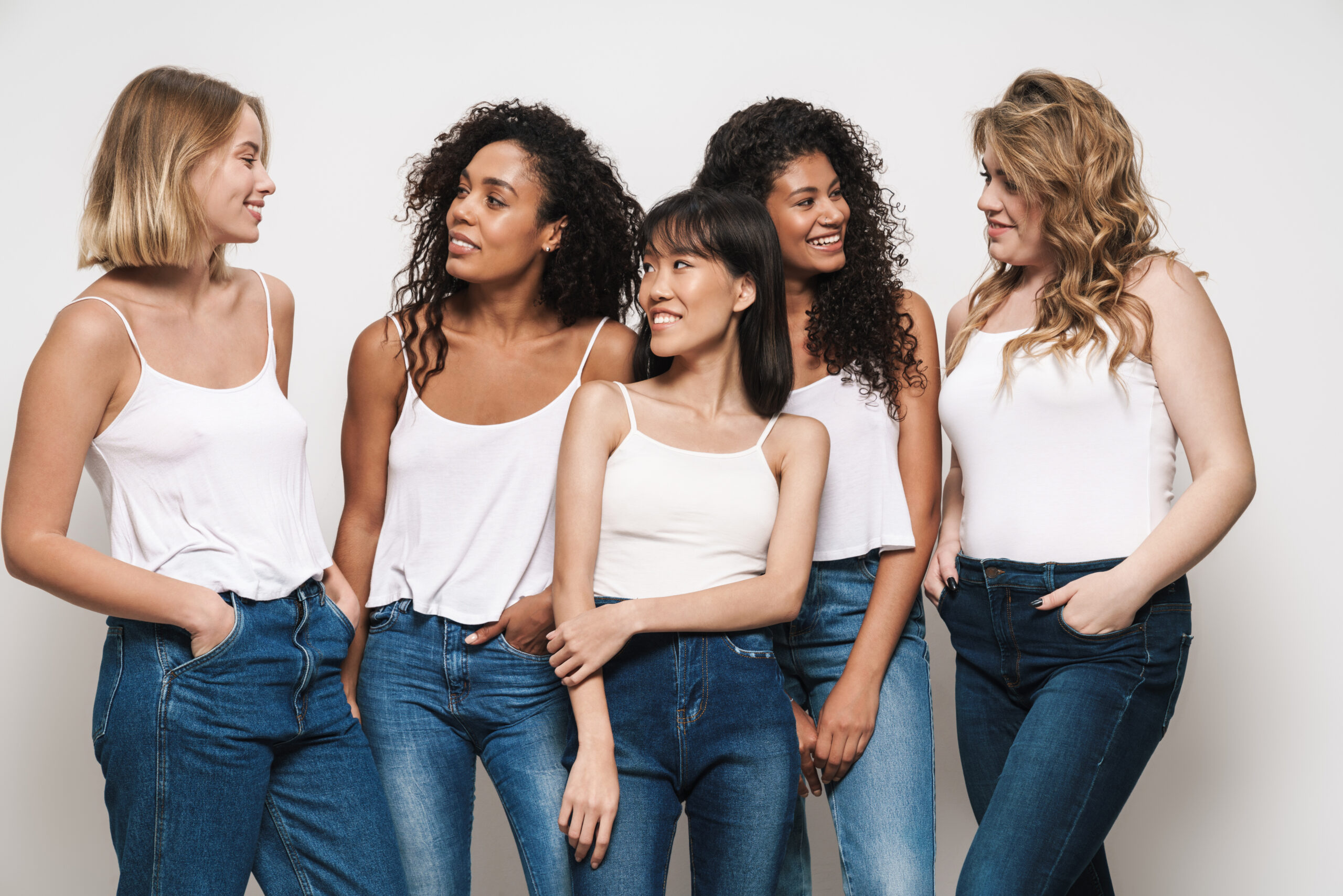 By: Nada Manley
I used to love makeover shows, but I was always slightly dejected when each episode was over. There was no miraculous makeover in the cards for me. There was no easy way for me to look better instantly.
I was already giving it everything I had. But was I really? Sure, I was doing most of the big stuff, from semi-regular haircuts to flattering everyday makeup, but some of the smaller stuff had fallen through the cracks.
Fortunately, I've learned, and that's why I compiled this list of the little things; small improvements that yield big results.
19 Easy Ways to Look Better Instantly
1. Whiten Your Teeth or Let Lipstick Help You Do It
Nothing makes you look prettier and more approachable than a bright, healthy smile. As Charla Krupp once famously proclaimed, yellow teeth are aging! Fortunately, they are so easy to fix! A friend recently told me that she gets her teeth professionally cleaned at the dentist's office three times a year instead of twice, and I immediately decided to do the same thing.
If you don't want to invest in a professional whitening treatment, use an at-home whitening system. Another tip? Try cool, blue-based lipcolors (cherry, raspberry, wine) instead of warm tones (coral) to counteract the yellow in your teeth, or try a gloss designed to help your teeth look whiter. Amazing!
2. Change Up Your Manicure
I am not saying that there is anything wrong with a French manicure. Wait, yes, yes I am. I know this is controversial, but for now, the classic French manicure in either soft pink or white tips is dated. Don't be afraid to break out of the French manicure box!
There are so many chic, wearable manicure ideas out there that are neutral and more updated. Classic red, coral, or sheer pink nails are always chic. A classic white nail goes with everything and is perfect in winter, spring, summer, or fall. This classic white O.P.I polish is my go-to nail color 90 percent of the time. One and done, it's easy. And I get lots of compliments, too!
Would you like fingernails fit for a duchess? If so, this perfect, pale pink shade is literally palace-approved for members of the royal family to wear when representing Her Majesty. It really is a pretty shade, and like the white above, it goes with everything! It's my second favorite shade. Made by essie, the color is ballet slippers.
Or if you're looking for something funkier, try painting all of your nails in one solid color, and then adding a sparkly topcoat to a single nail on each hand.
3. Ditch the Boring Bag
Your bag should be a beautiful, high-quality statement piece. It should not be boring, or frumpy, or dated. After all, you carry it every day, and a blah bag can bring down your whole outfit. A stiff bag with a faux exotic print embossed onto the leather looks so dated. Invest in a status bag, if you can, or, for more affordable options that are still on-point stylewise, look to lines like Z Spoke from Zac Posen, Michael Kors, and Rebecca Minkoff.
Avoid faux texture, tons of exterior pockets, and a boring shape in a boring color, like beige.
For an investment piece, choose a black or camel bag in a strong, elegant shape with minimal detail and hardware. Something like this modern classic Kate Spade New York Satchel Purse. It has a detachable strap allowing it to be worn as a larger crossbody or carried as a handbag. And if camel or black isn't your thing, it also comes in rich hues for every season.
If a smaller bag is more your style, this Coach Mini Sierra Satchel that can also be worn as a crossbody is another great choice.
4. Lower Your Vamp
High vamp shoes (those that cover more of the top of your foot) can be cool, or edgy, or funky, but they are rarely feminine or delicate. Furthermore, thin straps are prettier than thick straps, no matter what the Birkenstock wearers say. And while the new ugly shoes may, arguably, have a place in the wardrobe of a 20-year-old hipster, after a certain age, they look like comfort shoes – the very antithesis of cute.
So skip the flatforms and shower slides, the Tevas and the Birkenstocks, and stick with classic but still comfortable options like thong sandals, ballet flats, or gladiators.
Call me old-fashioned, but I like pretty.
While we're talking shoes, stay away from rounded toe flats. A pointy toe or almond toe is more flattering because they draw the eyes down and give you a longer (taller) look even when wearing flats.
Leopard print shoes are now considered neutrals. You can wear them with almost any plain color or color combination. Invest in one or more pairs from flats to high heels. You'll soon find them among your favorite shoes whenever you're not wearing prints.
This kitten heel Calvin Klein Gabrianna Pump is shoe heaven. A kitten heel is great for weekend brunch, church, work, and dinners at eight. And if you already have leopard print shoes, these classy shoes come in over a dozen beautiful colors. (Notice the low vamp allowing more of the top of your foot to show. You want to look for this in any non-athletic shoe or boot.)
5. Lose the Platform Flops
Yes, this is closely related to #4, but I feel so strongly about this that I decided to give it its own category. Flip flops should be flat. Ditch the styles with the thick, black, rubber platform soles and go for a classic pair of Havaianas. While you're at it, toss any old flip flops with the black nylon straps and black soles. There are so many options that are equally affordable and comfortable, yet far more stylish.
6. Grow Your Hair Out or Have It Cut Shorter
Some women immediately cut their hair after having kids. It's like a rite of passage. 1. Have baby. 2. Buy yoga pants. 3. Chop hair off.
Some women still have the same long straight hair they sported so cutely in high school or college even though they graduated in 2007.
Here's a question: "How many times has someone complimented you on your hairstyle in the last 12 months?" Why is that an important question? Because the number of compliments you've received on your hairstyle in the last 12 months is an indicator of how many compliments you're going to receive about your hair in the next 12 months.
If you've had two or fewer compliments, it's time to make a change because your hair isn't doing you any favors. Your hair frames your face! It should enhance your look every day! Go to the most expensive salon you can afford, at least for the initial cut and style. Then, take photos from every angle that day so that other stylists can duplicate it for you.
7. Ditch the Baggy Clothes
So, so, so many women think they are bigger than they are. They wear long baggy tees and slouchy sweatshirts in an attempt to hide it, which actually ends up making them look bigger. Next time you're shopping, try the smaller size. Or, if you are used to wearing your clothes a little too snug, try the next size up. Clothes that don't fit are unflattering, unattractive, and most of all, aging.
8. Upgrade Your Denim
I find that there's plenty of room for trendy, disposable denim in a girl's life. The boyfriend jeans, the updated "mom jeans," the high-waisted jeans — all these are of-the-moment trends and are best bought at discount prices, either at off-price stores, or fast fashion outlets like H&M. Don't spend a lot on anything with a short shelf life.
The dark-wash skinny jeans or dark-wash trouser jeans are today's best choices: sleek, flattering to many, and versatile enough to dress up or down.
These are newer classics and should be considered investment pieces. Plan to spend two or three times as much on these, and look for premium labels like Joe's, AG, Madewell, and Seven for All Mankind. These trouser jeans are from the cult favorite NYDJ brand sold at Nordstrom's and other fine retailers. They're now available on Amazon.
Casual Friday? Saturday date night? These feature a softer-than-normal denim fabric and a built-in slimming panel, and they're designed by women for women. You'll love them! Just make sure to order one size down from your normal jean size. Yep! You definitely want to follow the manufacturer's sizing chart and order one size smaller than the size of your other denim jeans. They sell just about every type of denim. If you're not in the market for a pair of trouser-cut denim, make sure to look for your favorite style and give this brand a try.
9. And Your Bra
I know you think your tired, stretched-out, old bra is fine. It isn't. Unless you struggle to fill in an A-cup, you need some support. The right bra will make absolutely everything you wear look a million times more expensive. You will look taller, slimmer, and chic-er. If you're a full B-cup or higher, an underwire is required, not optional; and if you can only choose one bra, pick a seamless, neutral style with convertible straps for maximum versatility. And if you don't have a high-end department store in town, go bra shopping online at innovative retailers like Brayola or Third Love.
10. Pick a Fresh, New Lipcolor
So we've heard how a too-dark, too-matte lipstick can age you, and how the opposite – a nude, washed-out lip – is also true. Your best pick? An ultra-hydrating color with a little bit of sheen in a mid-toned flattering color. Whether you prefer the subtlety of a lip stain or the pop of a bolder shade, make sure the color complements your skin tone and brightens your complexion.
11. Groom and Grow Out Your Brows
You know how you feel when they look straggly. Prevent that from happening by regular rearview-mirror checks. I find that the angle of the rearview mirror, combined with natural light, is the best place to pluck stray hairs as they arise and keep your brows neat and groomed. Keep a pair of tweezers in your glove compartment and touch up your brows whenever you have a spare moment! But never, of course, while actually driving.
Thin brows are out! Frame your eyes with wide brows that are impeccably groomed. Think Audrey Hepburn. In fact, when in doubt, always think Audrey Hepburn. Or look to your favorite star or style icon under or over 45; I bet she has thicker brows than she did five years ago.
12. Buy a Cute Pair of Sneakers
Even if you don't work out. Especially if you don't work out. Trainers are trendy right now, and just the thing for long days of family travel or hiking around an amusement park. Of course, I'm not talking about your worn-out running shoes here. Make them count. Make them cute! Then they'll look like an intentional part of your look and not just an afterthought.
For when not training, but just walking about, try these fantastic, Italian classic sneakers first made in 1925. The design is identical today! The Superga 2750 Cotu Classic Sneaker is the one to turn to. They're worn by the likes of Beyonce and Catherine, duchess of Cambridge. I just bought these in white, and now I'm eyeing them in grey and navy.
13. Use Sunscreen
Every day. Even when it's gray. Use an antioxidant-packed formula on the face, neck, chest, ears and back of the neck every morning, and a body lotion with SPF on extremities. In sunnier months, switch your regular hand cream for a moisturizing sunscreen.
The sunscreen for my face is actually part of my foundation. For years now, the only foundation I wear is by IT Cosmetics. Their Your Skin But Better CC Cream with SPF 50 gives me a flawless finish and an SPF of 50. Talk about a great combination! This brand puts more pigment in their foundation than a lot of the competition. When choosing your color, go down one shade.
14. Wear Dishwashing Gloves
Not a glamorous subject, but we all wash dishes and do household cleaning, and all that soap and hot water, and cleaners, and scrubbing can take a toll, and make hands look older. I keep a hand-lotion pump next to my kitchen sink and apply a quick dab to the backs of hands before slipping on my girly dishwashing gloves. It's like a little spa treatment! Okay, it's nothing like a spa treatment, but it's the best I can do, most days.
15. Find a Great Skincare Routine
As a beauty writer, I have never had a shortage of skincare products on hand, but all that choice can be confusing, to you and to your skin. You don't need more products. You just need a few well-chosen ones that cover all of your bases. One way to do this is to pick your entire skincare routine from the same company, since the products are designed to work synergistically.
I've used the following products from Boots No7 for more than a decade, and I still rave about how well they work! With proven results and a great price, these fantastic anti-aging and wrinkle-reducing products are loved by women worldwide.
I use the No7 Protect & Perfect Intense Advanced line of products. I apply the serum and day cream in the morning, making sure that I apply it to my neck, face, and hands. In the evening, after removing my makeup, I apply the night cream to the same three locations for a triple treat of hydration to three key areas.
And then there's my favorite Boots No7 product! Instant Illusion Wrinkle Filler. I use it daily. You apply it before any other lotion or product, and it reduces the look of lines and wrinkles. The effects last for hours. Everyone's skin is different, so your mileage may vary. It's almost like a mini dose of Botox! Two tubes should last a year because this product is simply dabbed on problem lines and wrinkles and not applied to your whole face.
16. Get Botox, but Just a Little
When it comes to treatments that can reduce or erase current wrinkles while preventing future ones, Botox tops the list. And it doesn't have to mean frozen face. Get a recommendation from a trusted friend for a derm known for a minimalist approach. Just the tiniest bit will leave you line-free and relaxed-looking for months, and no one needs to know.
17. Use a Skin-Firming Body Cream
I have been told that a cream can't take the place of exercise, but who has time for that kind of negativity? I personally love the way firming creams leave skin taut, glowing, and, well, firm. I am always on the hunt for the perfect all-purpose body cream, one that makes you firm and glowy, with just a hint of color. Jergens Skin Firming and Toning Body Moisturizer checks all the boxes, and it's so affordable!  Aveeno, Nivea, and Palmer's are also good options.
18. Lengthen Your Lashes A Lot
Make sure that your eyelashes aren't calling attention to any under- eye dark circles. This is best achieved by applying three coats of a thickening and lengthening mascara to your upper eyelashes, and none to your bottom lashes. That's right. None.
Instead, go along the base of your bottom eyelashes with a light line of dark eyeshadow. With a thin eye-shadow brush, just barely cover your bottom lash line with color. Doing this draws focus to your top lashes and gives you an instant mini eyelift.
This IT Cosmetics Superhero Elastic Stretch Volumizing Mascara has been my go-to for more than five years. It turns barely-there lashes into super lashes!
19. Discover Coconut Oil
A long time ago, I read that Sophia Loren used to smooth olive oil on her body to keep it soft and youthful, and much as I wanted her skin, I balked. I didn't want to smell like a salad.
Fortunately, with coconut oil, there's no odd smell. The one I use has no smell at all and is the texture of water. I have been using coconut oil on my face, body, and hair for several years now, and I am obsessed. Addicted. My favorite brand is HandCraft Blends, which is pure, organic, and fractionated. It absorbs quickly, so you get smooth, hydrated skin, without greasiness. I use it to remove makeup, moisturize my dry legs, and calm the frizz in my hair.
As promised, most of these 19 easy ways to look better instantly are small changes you can make today that will lead to a brighter, fresher, more stylish you tomorrow.
I'd like to thank Maralee for inviting me to share this list with you. Please visit me at Nada Manley and get a free copy of my fashion style guide for women over 40.